Wilmslow to be engulfed with thunderstorms in four-day yellow weather warning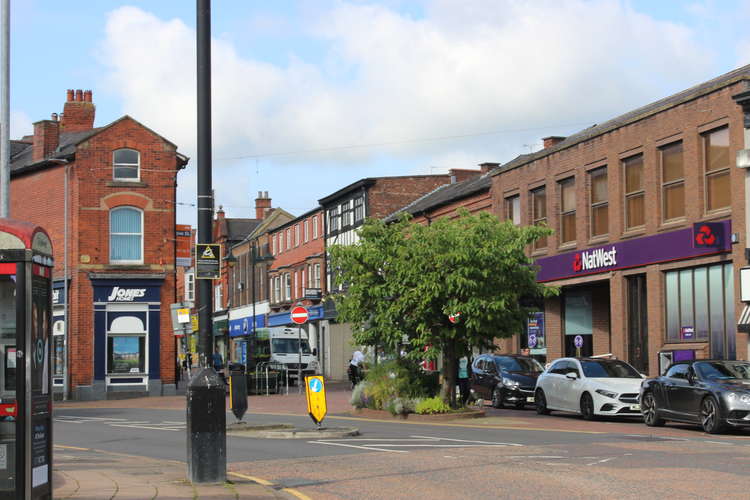 Wilmslow will be caked in rainwater these next four days, you may want to rearrange your weekend plans. (Image - Met Office)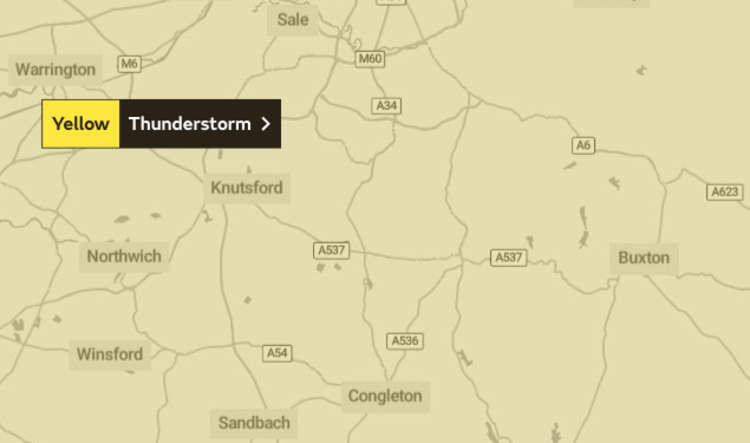 Wilmslow: Half of the country will be engulfed in the extreme weather on Friday and Saturday, an occurrence which will become more common with climate change. (Image - Met Office)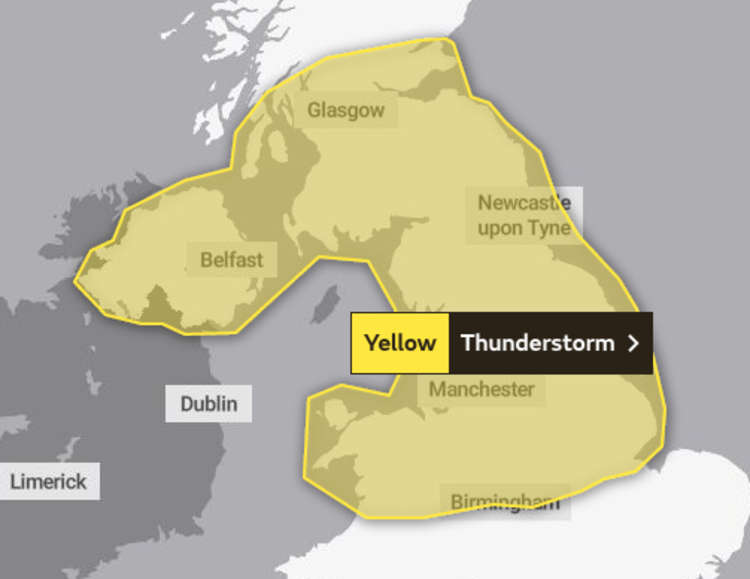 You can check the four-day forecast on the Wilmslow Nub News homepage. (Image - Met Office)
Wilmslow: You might want to cancel your weekend plans...
It is as Met Office has issued a yellow weather warning for Wilmslow and the surrounding areas this week, with the town set to be hit by heavy rain and storms over the next four days.
There is a yellow weather warning for heavy rain showers today. The worst will be a thunderstorm at 3pm, which will ease off by 5pm.
Further slow moving but worsening thundery downpours are predicted in Wilmslow: throughout Thursday, Friday, and Saturday.
While there will likely just light rain from 11am to 8pm on Thursday, it is at the weekend where the Wilmslow weather gets particularly dangerous.
The yellow thunderstorm warning is from 10am on Friday to 1pm on Saturday, with the worst of the weather set for Friday from 1pm to 4pm.
There is also risks of lightning strikes at 1pm to 4pm on Saturday.
The Met Office says there is a small chance that Wilmslow homes and businesses could be flooded quickly, with damage to some buildings from floodwater, strong winds, or precipitation.
They have also warned that spray and sudden flooding could lead to difficult driving conditions and some road closures.
The warning also comes with the advice that, where flooding or lightning strikes occur, there is a chance of delays and some cancellations to Wilmslow train and bus services.
The warning is in place for the areas of about half of England, Wales and Northern Ireland that are north of Birmingham, but south of Glasgow.
After the growth intensity and weekend peaks, it will peter off again on Sunday, as the dry weather returns early next week.
There is a slight chance that power cuts could occur and other services to some homes.
There's also a small chance that Wilmslow businesses could temporarily cease trading, or face closure.
Wilmslow: For advice on keeping safe in thunder and lightning, please click this link.
You can view the latest weather forecast for Wilmslow on our homepage.
[I]Free from pop-up ads, or unwanted surveys, Wilmslow Nub News is a quality online newspaper for all things Wilmslow, Styal and Handforth.
You can subscribe to our FREE newsletter, by entering your email address in the shaded box below.