Cycling: Wilmslow to host Tour of Britain leg this year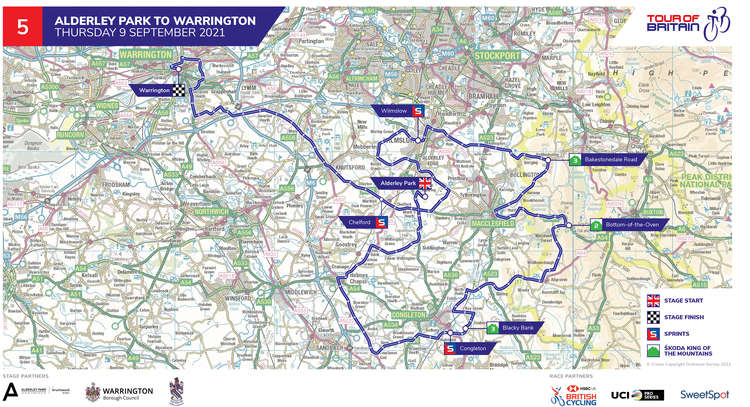 Wilmslow Town Council is thrilled to announce that Wilmslow will host an intermediate sprint of the Tour of Britain on Thursday September 9.
It is on the fifth day of the contest, just after competitors have cycled through Macclesfield.
Martin Watkins, Chairman on Wilmslow Town Council said of the news, "Being selected as a Stage partner of the Tour of Britain is fantastic news for Wilmslow. As well as being an exciting event for residents, it will raise the town's profile nationally and regionally, attracting visitors to the town, and promoting cycling. We hope that Wilmslow's businesses and schools will embrace the wonderful opportunities it brings."
The Tour of Britain is British Cycling's biggest professional race, featuring Olympic, world and Tour de France champions, held annually across eight days in September.
The Tour is free to watch and attracts a roadside audience of over 1.5 million spectators.
Live coverage of the race and highlights will be shown daily on ITV4, in
addition to featuring on local and worldwide news. Knowing that hosting a sprint of the Tour of Britain would have huge benefits to the
town, Wilmslow Town Council first agreed to express an interest to the Tour's organisers in March 2021.
The basic cost to the Town Council of being a stage partner will be £10,000, and the Council will work with Groundwork - Wilmslow's Town Centre Management service - to harness the opportunity to attract visitors from the region into the town centre as part of a series of initiatives to drive footfall to the town.
Wilmslow's intermediate sprint will be part of Stage five of the race, starting from Alderley Park at 11:30am, going through Macclesfield, Rainow and Adlington, before the intermediate sprint in Wilmslow that afternoon.
The race will enter Wilmslow travelling down Dean Row Road, turning left at the Bluebell lights then travelling down Manchester Road to Wilmslow Town Centre and turning right at the main lights by the Rex. The sprint continues along Water Lane, concluding prior to the junction with Hawthorn Street. Stage five will then continue towards Morley Green and beyond.
It is currently expected that the Wilmslow sprint will take place between 2.30pm-3pm. Spectators are welcome.
It will also stop off at Alderley Edge, at Alderley Park in Nether Alderley.
Wilmslow Town Council will issue more information via their website and social media nearer to the event.
Further information on the Tour of Britain can be obtained from the event's website.
Wilmslow Nub News covers Wilmslow, Handforth, Styal and the surrounding area.
We're on a mission to bring honest, quality local news for our area.
Got a story? You can contact our Editor at [email protected]
You can follow Wilmslow's online newspaper on your favourite social media platform, where you can also drop us a message.
You can find us on Facebook or Twitter.
Please also consider signing up to the Wilmslow Nub News Newsletter for the ten best stories of the week.